bioastronautics@hopkins
Mini-Symposium Series
In November 2021, bioastronautics@hopkins began holding a series of mini-symposia, involving various topics related to human spacefilght. These events are hosted by the Johns Hopkins University Whiting School of Engineering Office of Research and Translation, as well as Hopkins@Home. bioastronautics@hopkins is led by Dr. Mark Shelhamer, Professor of Otolaryngology at the School of Medicine.
Upcoming: Radiation in Space
May 12, 2023 | 2 p.m. EST
Speakers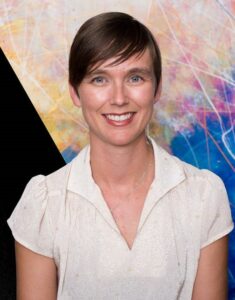 Dr. Shona "Robin" Elgart
Shona "Robin" Elgart is the element scientist for NASA's Space Radiation Element (SRE). She received a bachelor's degree in microbiology from the University of California at Santa Barbara and a doctorate in biomedical physics from the University of California at Los Angeles in the laboratory of Dr. Keisuke Iwamoto. Her dissertation focused on characterizing the DNA damage response following low-dose radiological exams in patient samples. Before joining SRE in April 2020, Elgart served as a subject matter expert specializing in space radiation health risks for NASA's Space Radiation Analysis Group, or SRAG, as well as a Space Environment Officer for Mission Control Center in Houston.
Elgart has more than 15 years of research experience across multiple life-science disciplines, including medical physics and radiation biology. Her experience with SRAG included six years of directing and managing reviews of radiation health outcome evidence, translating research findings into evidence-based operational strategies, and analyzing space radiation protection and risk for the Radiation Health Office. She also has four years of mission operations experience as a space environment officer and radiation mission manager. As the element scientist for SRE, Elgart's primary objective is to develop and execute a robust applied research strategy to meet the agency's goal to safely put the first woman on the Moon and the first humans on Mars.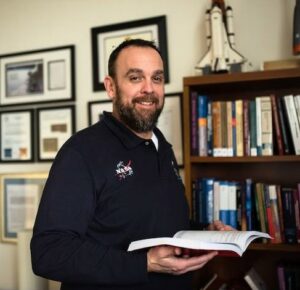 Dr. Jeffery Chancellor
Jeff Chancellor is a scientist and expert consultant on radiation effects for manned spaceflight and the aerospace industry. He is currently Assistant Professor of Physics in the Department of Physics & Astronomy at Louisiana State University and the Chief Technical Officer at Atlantis Industries.
His research utilizes 3D Monte Carlo modeling techniques and high-performance computer platforms to study heavy charged particle interactions with soft tissue and condensed matter following space radiation exposures. At LSU, Jeff is the Director of the Space Radiation Transport & Applied Nuclear Physics (SpaRTAN) Laboratory. The SpaRTAN lab's research is focused on applications of how heavy ion radiation interacts with soft and condensed matter for ground-based analogs, manned spaceflight vehicle structure, shielding, and clinical healthcare. The SpaRTAN lab utilizes high-performance, multi-core computers and sophisticated numerical techniques for studying complex dynamics that are otherwise difficult to mimic in a laboratory setting. Prior to LSU he was a research scientist in Helmut Katzgraber's Computational Physics Group at Texas A&M University.
Previously, Jeff has was the Radiation Effects Program Manager at the National Space Biomedical Research Institute and held an academic appointment at the Center For Space Medicine at Baylor College of Medicine. Much of his research drive is from his experience as a Senior Research Engineer with the Space Radiation Analysis Group (SRAG) at NASA's Johnson Space Center. As part of SRAG, he served as a Flight Controller on the Radiation Console in Mission Control and as the Radiation Lead on the Mission Management team for Space Shuttle mission STS-118, STS-120, STS-122, and STS-125 (Hubble repair mission). This included projecting the radiation exposure, briefing the astronaut crew on any health risks associated with mission, exposures informing the Mission Manager of the radiation risk assessment and providing a Go/No-Go recommendation. Additionally, Jeff also provided training in space weather, medical physics, and countermeasure procedures to astronauts preparing for missions on the International Space Station. He worked extensively with the design team for the Constellation Program's Orion Crew Exploration Vehicle and led the effort to reach an optimum mass configuration that would maximize the shielding during solar particle events.
---
Archive
Space Surgery – October 25, 2022
Statistical Approaches to Spaceflight Data – March 16, 2022
Systems Medicine for Spaceflight – November 15, 2021
For audience questions and panel member responses, please click here.
---
Virtual Symposium on Human Spaceflight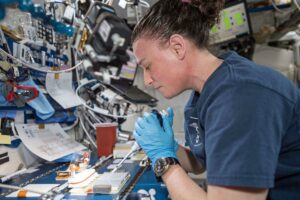 Bioastronautics@hopkins held a Virtual Symposium on Human Spaceflight, on Feb. 24, 2021.This was the first event for the special interest group led by Mark Shelhamer, JHU Professor of Otolaryngology and former Chief Scientist of the NASA Human Research Program.Keynote speakers included physician and NASA astronaut Serena Auñón-Chancellor, and N. Wayne Hale, Director of Human Spaceflight at Special Aerospace Services and the former Space Shuttle Program Manager at NASA. The symposium included researchers in the field from universities and institutions across the country. Below are some of the recorded presentations from the symposium.
Host: Mark Shelhamer, Johns Hopkins University School of Medicine
Moderators: Mallika Sarma and Serena Tang, Johns Hopkins University School of Medicine
Assistance was provided by JHU WSE's Commercial and Government Program Office (Larry Nagahara, Peter Zeender, Linda McLean, Bruce Dennett, William Bagley)
 Bioastronautics Kickoff Event Schedule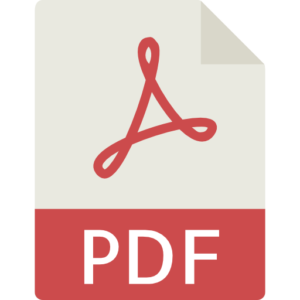 ---
Video Presentations
Introduction – Mark Shelhamer, Johns Hopkins University
Larry Nagahara, Johns Hopkins University
Jason Kalirai, Space Exploration at Johns Hopkins Applied Physics Laboratory – (No video)
Lori Graham-Brady, Civil and Systems Engineering at JHU
Opening Keynote – Wayne Hale, Special Aerospace Services; former Director of Space Shuttle Program at NASA
Gary Riccio, NASA's Leadership in Metascience
Erik Antonsen, Ending Siloes: The Need to Paint the Big Picture of Human System Risks in Human Spaceflight
Jeff Chancellor, Space Radiation: Where is the risk?
David Klaus, Bioastronautics at UC Boulder
Aenor Sawyer, The Health Sense Matrix for Space – (No video)
Cheryl Nickerson, ASU Space Life Sciences Efforts
Michael Schubert, Autonomous Rehab to Reduce Motion Sickness and Improve Balance – (No video)
Mike Rosen, Team Physiological Dynamics and Communication Measurement Strategies for LDSE Competencies
Sharon Gerecht, 3D Human Vascular Models to Study Responses to Radiation and Hypoxia – (No video)
Radames Cordero, Melanin in Space
Greg Falco, Smart Cities for Resilient Space Habits
Serena Auñón-Chancellor – (No video)
Human Spaceflight Special Interest Group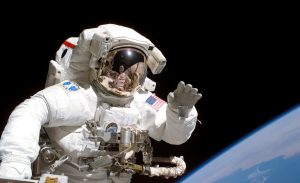 Johns Hopkins University is a major force in the area of spaceflight, with an emphasis on human health and performance, but connecting to all associated disciplines. The Human Spaceflight Special Interest Group will provide a unifying structure for activities in this field across the university by identifying and distributing funding and research opportunities, assisting with proposals, promoting cross disciplinary and integrated research, and assisting in student recruiting.
For information about the Human Spaceflight Special Interest Group, please contact:
Mark Shelhamer
Johns Hopkins University School of Medicine
(410) 614-5898
mshelhamer@jhu.edu
Funding Opportunities
DEADLINE EXTENDED TO JULY 16: Interstellar Research Group Announces Scholarship Program for Rising College Undergraduates and Graduate Students.  – IRG Scholarship
The Sky is No Longer the Limit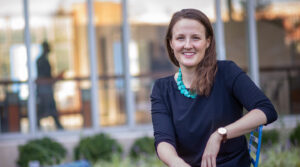 Photo by Chris Hartlove. Story by Steve St. Angelo
It took a few extra trips around the sun, but Dorothy Coker has found her space in nursing.
Among a galaxy of reasons to choose among the five-star programs at the Johns Hopkins School of Nursing, Dorothy Coker saw one tiny black hole: There was no program designed for students interested in space nursing—preparing to handle the health and safety issues that will undoubtedly arise or increase with wildly accelerating near- and deep-space travel.
5-4-3-2-1 …
Coker arrived for the MSN (Entry into Nursing) program on a mission. "I immediately went looking for faculty to partner with on building a new program," she says. "I initially met Dr. [Vinciya] Pandian interviewing for the Research Honors Program, and she has been so receptive and supportive of the idea. I was also really lucky to find support and mentorship in Dr. [Mark] Shelhamer, who runs the Human Spaceflight Lab over at the School of Medicine."
To read the full article in the Johns Hopkins Nursing magazine, click here.
JHU Professor to Create Center for Space Life Sciences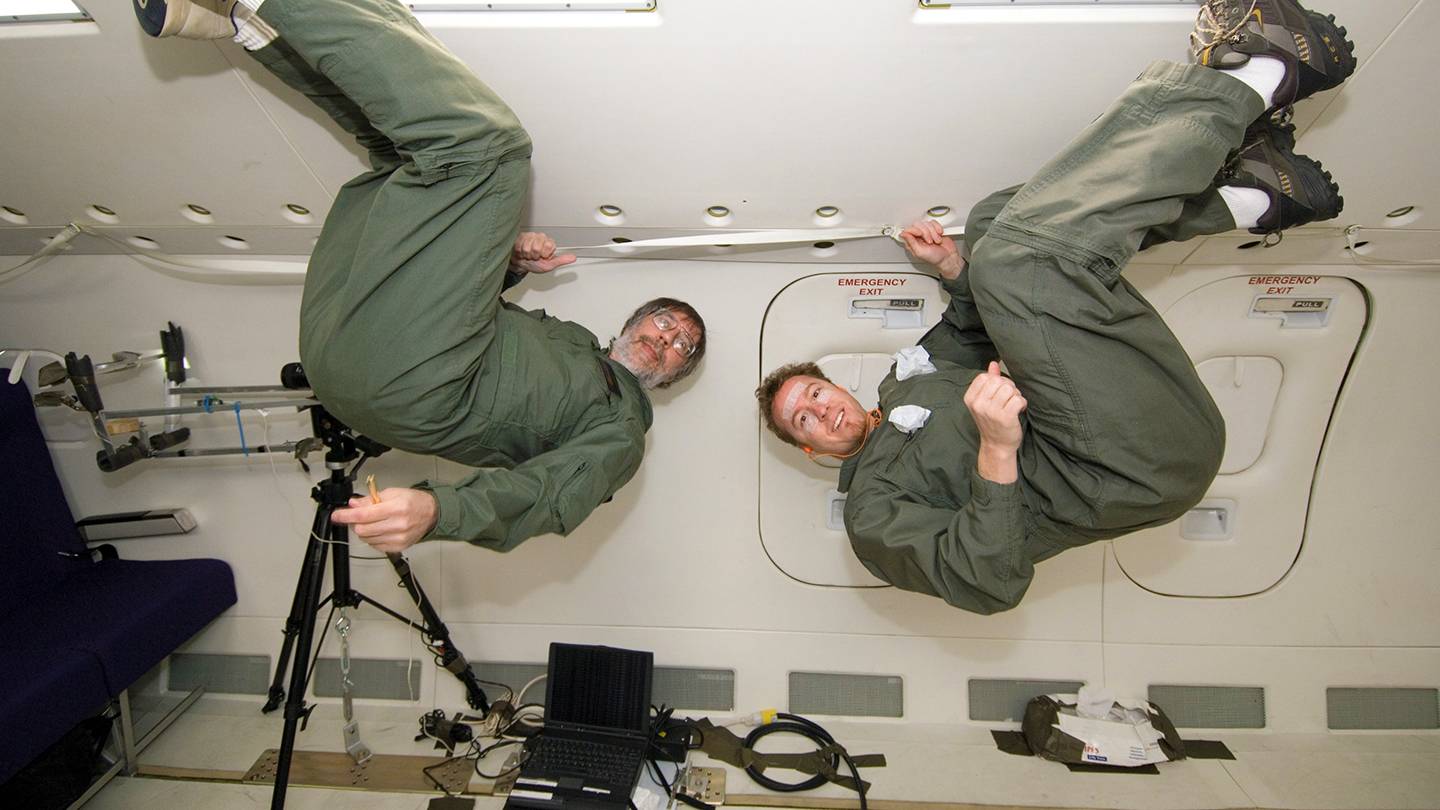 Johns Hopkins Associate Professor Mark Shelhamer, left, is working to create a Center for Space Life Sciences at Johns Hopkins University. Shelhamer has spent much of his career studying the human body's adaptations to space. Now he is trying to help NASA (and commercial entities) safely send humans into space and to Mars while mitigating some of the major risks to human health and performance.
To read the full article in the Johns Hopkins Magazine, click here.
Upcoming Events
There are no upcoming events.